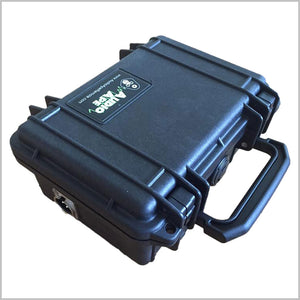 [embed]https://www.youtube.com/watch?v=5pJix9DAxds[/embed]
This all-in-one case is the pro solution to the easiest way to set up your system in mere seconds. No need to uncoil wires, carry extra components or even find a power source.
Inside this virtually indestructible case:
10,000 mA battery with a power meter
Magnetic holder designed for your iOS device
2 very special custom cables
Throughput XLR and 3.5mm connectors
Every component has been carefully selected to not only fit and work in synergy inside but are of the highest quality and durability too. You can even run this system with the lid closed and locked!
Note this Pro Case is designed for Audio Ape 2.0 or higher. You will need to provide your own Audio Ape System and our Switchcraft DI if you want XLR capability. Exterior dimensions are 8.5" x 6.75'" x 4"
The size of the case cannot store iPads only iPhones and iPod touch fit in the closed case. You can easily set up the iPads outside of the case using the included stand.